This post may contain paid links to my personal recommendations that help to support the site!
Chances are, you're here because you're curious about some answers on Tableau and human resources.
Not to worry! I've done the research and:
I've put together 7 key things you need to know about Tableau and human resources.
Read on for more information!
1. Is Tableau Used in Human Resources?
Tableau is used in human resources. It is a data visualization tool commonly used for charting HR data. Tableau is used in human resources for headcount reporting, optimizing recruitment efforts, performance evaluation, and employee feedback analysis. However, other business intelligence tools can also be used in HR.
When it comes to visualizing data, Tableau usually comes to mind.
In the case of human resources (HR), you're likely going to have to use Tableau.
For starters, you can refer to the Human Resources Analytics Page from Tableau themselves to get you inspired!
Or if you're more used to video content, you can check out this video below on HR analytics using Tableau, from the Tableau Conference 2017!

2. Is Tableau Useful for Human Resources?
Tableau is useful for human resources. Tableau is a simple data visualization tool that can create charts and dashboards from HR data easily. Tableau provides a platform for HR professionals to measure people analytics in a company to ensure the best employee experiences.

3. How Is Tableau Used in Human Resources?
Tableau is used in human resources for analyzing people analytics. Tableau is used to discover trends in employee metrics, understand workplace diversity, track recruitment processes and analyze feedback from employee surveys. However, the use of Tableau in HR is still growing, with applications constantly expanding.
If you're familiar with how Tableau works, you'll know that the simple drag-and-drop interface should be easy for any HR professional to get started!
This has led to many possibilities for Tableau to be used human resources!
Here's a list of some applications of Tableau in human resources:
Understanding Workplace Diversity
Measuring Employee Safety
Monitoring Turnover Rate
Tracking Training Needs
Understanding Employee Needs
Let's have a look at each of these 5 applications in detail!
Understanding Workplace Diversity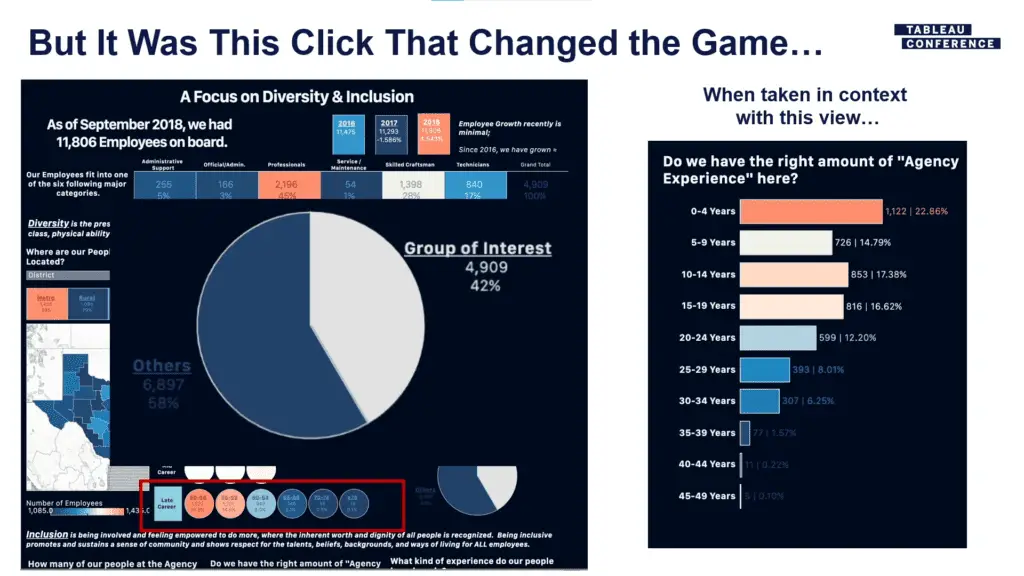 Tableau can really help answer some questions on the employee demographics in your company.
In this case, Tableau is used to visualize employee ethnicity and locations.
This means that high-level management can have a quick overview of who their employees are and how to create a better inclusion of diversity in their workplaces!
Take a look at this video presentation I found below, where diversity and inclusion were studied using Tableau:

Measuring Employee Safety
Tableau is also great for tracking and monitoring employee statuses to look out for their safety.
The Tableau HR team created an employee safety dashboard to monitor COVID-19 cases during the pandemic.
Check out the screenshot of their dashboard below: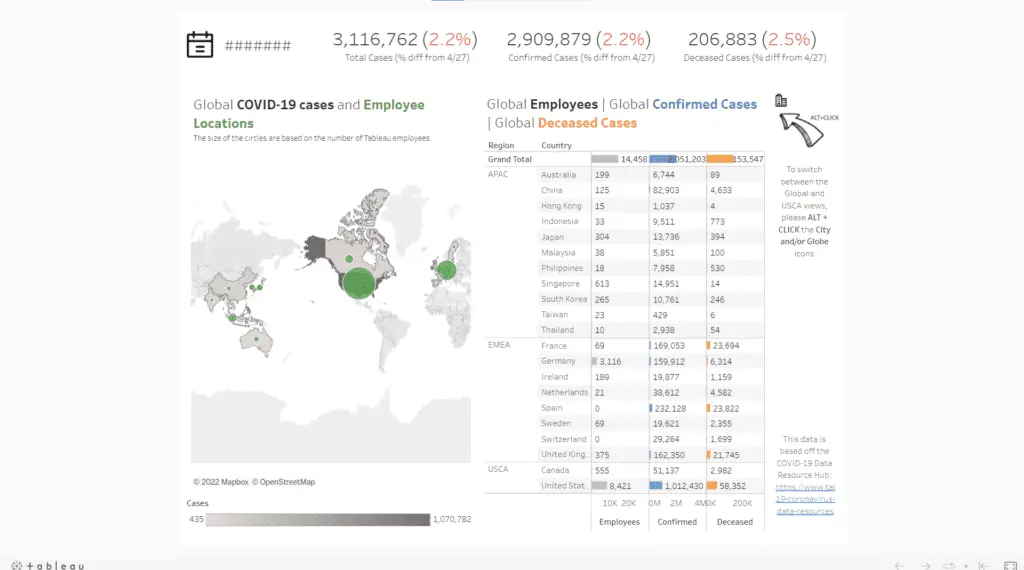 See here for the live dashboard.
This dashboard was created using Tableau to show which of their employees were in locations with higher cases of COVID-19.
How cool is that!
Monitoring Turnover Rate
Another really crucial metric used in human resources is the turnover rate.
This is where Tableau is perfect for visualizing any changes and trends in this metric.
Here's an example:
Lovelytics put together a Tableau dashboard to visualize their turnover rate and the reasons why.
Here's a screenshot:
See the dashboard for yourself here.

Tracking Training Needs
Tableau is also used by Tesco to help them understand the training needs of their employees!
Through this adoption of Tableau, they started measuring learner sentiment, learner confidence, and learner performance for trainings.
Through the use of Tableau's data visualization functions, learner sentiment could be displayed in the word cloud to better understand their employees post-training!
Through this feedback from the dashboards, Tesco was able to remove the pain points of employees undergoing training.

Understanding Employee Needs
TVS Credit, a non-banking financial company, used Tableau dashboards to visualize the health and safety of employees.
During the COVID pandemic, the company had to find ways to monitor employees who needed quick aid.
This tracking on Tableau has led to immediate financial support given out to those with urgent medical emergencies!
Read more from this original article.
4. What Are Some Examples of Tableau Human Resources Dashboards?
Tableau dashboards are perfect for visualizing human resources data because they give management a better look at their employees from different angles.
Here's a list of dashboard examples:
Examples of Tableau Human Resources Dashboards
Employee Diversity Dashboard
Employee Productivity Dashboard
Employee Attrition Dashboard
Employee Turnover Analysis Dashboard
Monthly High-Level Reporting Dashboard
1. Employee Diversity Dashboard
Firstly, we have the dashboard that is used to investigate the demographics of employees.
Such dashboards are used to get a closer look at any diversity changes among employees. This can help HR teams create more inclusive teams!
Here's a screenshot of an HR Diversity Scorecard by Lovelytics:

If you'd like to know more about how this dashboard came about, check out this video I found by Lovelytics:
2. Employee Productivity Dashboard
Another common metric that's commonly tracked is the productivity level of employees.
Managers want to know who are their top-performing employees to better incentivize high productivity.
Here's an example of an HR Productivity Analysis Dashboard by Mcz: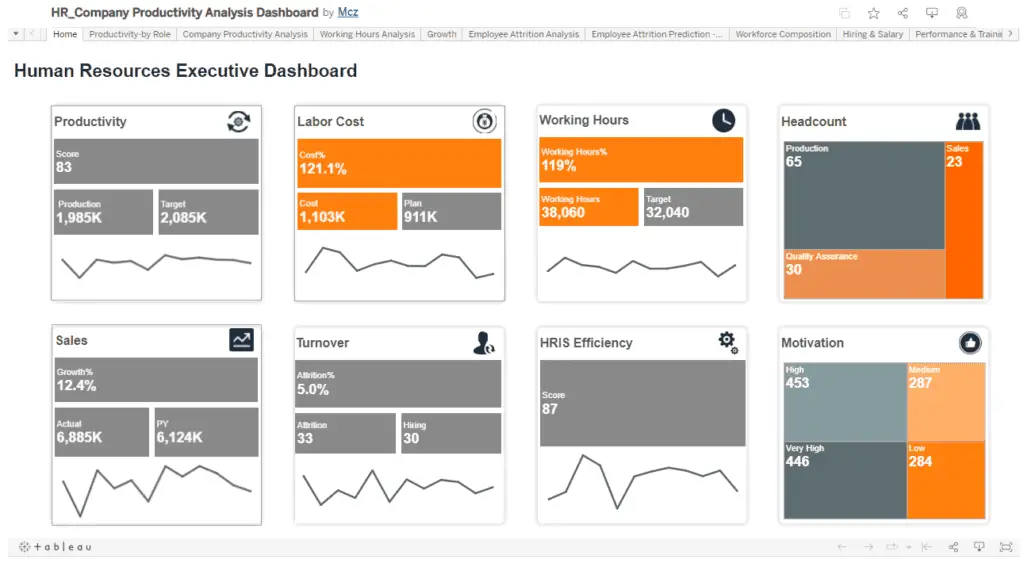 This should provide a great overview of any trends and changes in productivity over time.
Managers can better monitor these metrics through one dashboard view in Tableau!

3. Employee Attrition Dashboard
Employee attrition is a common concern in many human resources teams.
In this example, an attrition analysis was done to better understand when and why attrition happens!
Here's an example of the Workforce Analysis and Attrition by Sarah Geary:

4. Employee Turnover Analysis Dashboard
Similar to the attrition rate dashboard, this dashboard tracks employees who leave and their reasons why!
Here's a great example of a turnover analysis dashboard by Allison Wright:
5. Monthly High-Level Reporting Dashboard
In every HR team, there has to be a main dashboard where all KPIs are visible on one screen.
You'll likely need a high-level reporting dashboard to accomplish this!
Here's an example of an HR reporting dashboard by Adi McCrea:
For more inspiration on human resources dashboards, I'd recommend checking out Tableau Public!
Tableau Public is a free gallery of openly visible Tableau dashboards created and uploaded by the Tableau Community.
Go ahead and check it out here if you're interested!

5. How Do I Use Tableau in Human Resources Analytics?
Tableau is used in human resources analytics to create data visualizations to visualize employee trends. Metrics such as headcount, absence rate, turnover rate, and employee demographics are typically visualized on Tableau dashboards. However, Tableau can also be applied to HR analytics beyond these basic metrics.
Tableau is a great data visualization tool and you'll be surprised how much it can do to summarize your HR data!
In the field of HR analytics, you'll likely encounter the following metrics:
Headcount
Absence rate
Turnover rate
Employee gender
Employee location
Employee ethnicity
And MORE!
HR analytics is just starting to expand and the list of metrics that Tableau can visualize continues beyond this!
Thinking of learning Tableau?
You'd like this article I wrote on 7 clever ways to start learning Tableau!

6. How Do I Create a Human Resources Dashboard in Tableau?
To create a human resource dashboard in Tableau follow these steps:
Determine the purpose of the dashboard
Collect dashboard user requirements
Gather necessary data from data sources
Draft out a dashboard wireframe design on paper
Collect feedback on dashboard design from users
Create data visualizations based on feedback
Share dashboard with user
Maintain and improve dashboard based on further feedback
If you follow these general steps, you'll be good with your first HR dashboard in Tableau!
Want to know if it's worth learning Tableau?
Then, you'd like this article below:

7. What Should Be on a Human Resources Dashboard in Tableau?
Headcount, absence rate, turnover rate, and employee demographics should be on a human resources dashboard in Tableau. However, these metrics may vary depending on the company, the purpose of the dashboard, and human resources need. More metrics can be included in an HR dashboard according to end-user requirements.
Want to know how else is Tableau used in other applications?
See also: Tableau & Finance: Here's 9 Things You SHOULD Know!
OR
See also: Tableau For Healthcare: Here's 7 Real-Life Uses We Found!
Final Thoughts
That's all I have to share about Tableau and Human Resources! I hope these answers have helped to answer all those burning questions!
Sources
Thanks for reading!
My Favorite Learning Resources:
My Recommended Learning Platforms!
| | Learning Platform | What's Good About the Platform? |
| --- | --- | --- |
| 1 | Coursera | Certificates are offered by popular learning institutes and companies like Google & IBM |
| 2 | DataCamp | Comes with an integrated coding platform, great for beginners! |
| 3 | Pluralsight | Strong focus on data skills, taught by industry experts |
| 4 | Stratascratch | Learn faster by doing real interview coding practices for data science |
| 5 | Udacity | High-quality, comprehensive courses |
My Recommended Online Courses + Books!
More Articles For You