This post may contain paid links to my personal recommendations that help to support the site!
If you're into art or if you're looking to create great original images, you've probably heard of AI art. The results can be pretty incredible!
In fact, I'm pretty sure this will be the new way to create art in the future, as AI art generators have improved tremendously!
So, if you're looking for a way to create some amazing artwork quickly and easily, do read on to find out what are the best AI art generators of 2023!
What is the Best AI Art Generator?
Here are my top picks for the best AI art image generators:
Overview:
Hypo Art tool by Hypotenuse AI is an advanced AI image generator that's built for marketers, designers, and entrepreneurs. 
Personal Experience:
Using the Hypo Art tool was one of the most seamless AI image generation experiences I've had. 
When I first started, I was able to easily get signed up with just my Google account without the need to key in my credit card details. This was a plus point for me.
Now, for the image generation, let me share more details about the image results with you.
In the example below, I gave a simple prompt to create a cartoon image with the following description: "steam punk man diving underwater with his dog".
The following image was returned after a 1 minute wait.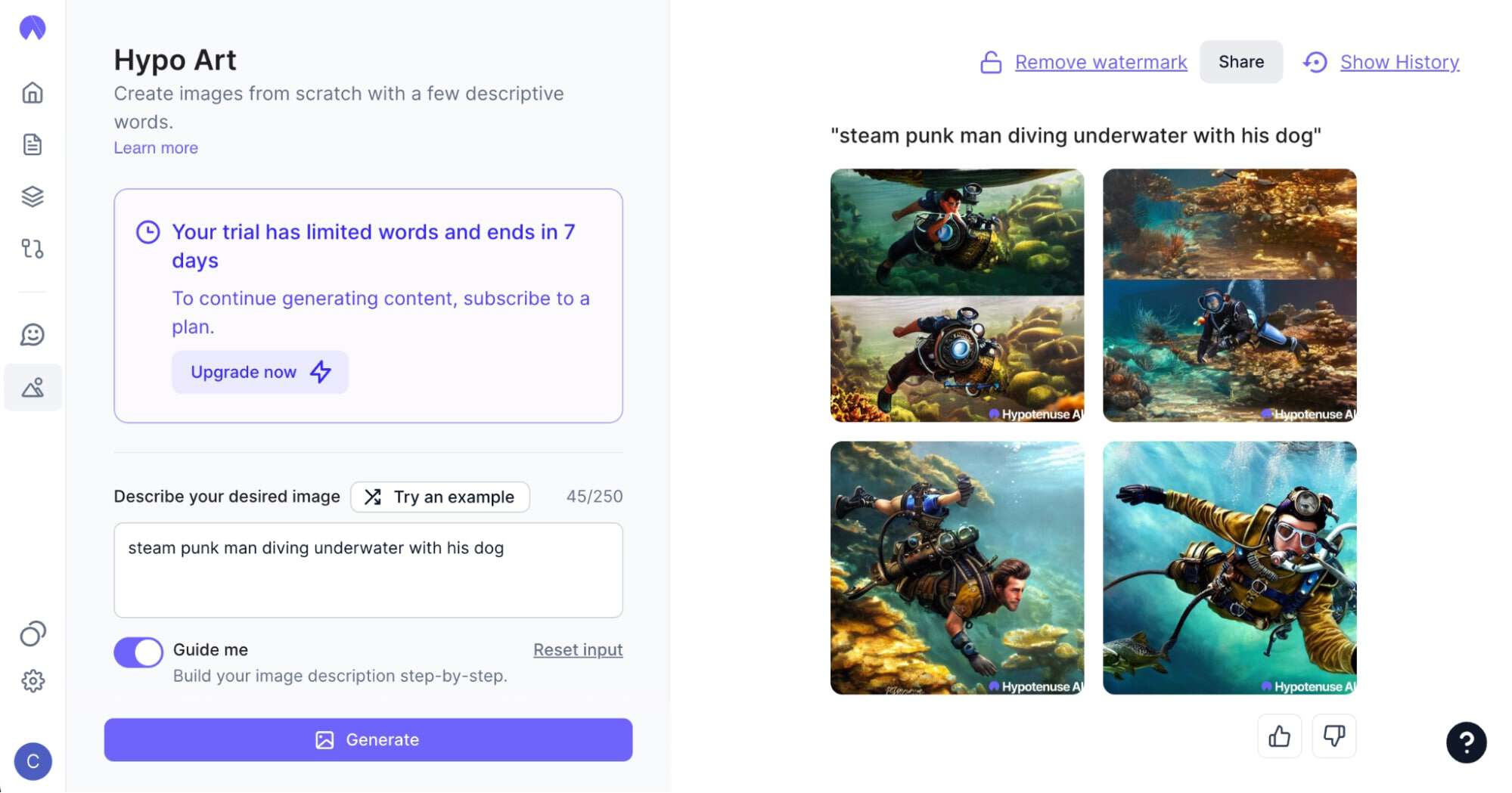 Just looking at the output, I could see that it was visually pleasing but not fully accurate to the description since they didn't produce the part about the "dog" in the image.
However, I still feel that it's pretty accurate, as I don't expect AI to be fully perfect. All other aspects of the prompt were fine.
Why I Like It:
I enjoyed the easy onboarding process as well as the results. This could really be a good choice for marketers and bloggers, since it provides a simple and fuss-free interface to all their other tools, like AI content generation and chatbot (HypoChat).
Here's another example of an image I generated:
Some first time users might like their "Guide me" feature that gives more assistance in prompting too.
Key Features:
Guided prompting
7-day free trial
No credit card is required to start the free trial
Integrated AI tool interface
My Take:
Overall, I find that the Hypo Art image generator feels very user-friendly but also caters to more advanced users like marketers for their integrated interface. 
I would recommend the tool for more serious users though, rather than casual users using the free trial. That's because the free trial produces watermarks that can cover some parts of the image.
Overview:
Wepik's AI image generator was designed for use with its wide range of customizable graphic templates. 
Their AI model – is based on Stable Diffusion, which is a text-to-image deep learning model. 
The use of AI makes designing easy for anyone to pick up and get started, even those without prior experience in graphic design! 
Personal Experience:
My first impression of this generator was rather skeptical since many websites boast about having the best image generation. Since it was free, I also initially assumed it would be unimpressive.
However, my experience with creating images using this tool surpassed my expectations. 
I found the platform interface intuitive and easy to use, and the AI image generations were really detailed. 
Overall, it saved me a significant amount of time and money in creating marketing materials.
Why I Like It:
If there's one thing I like about this generator, it is the customization options and variety of templates available. 
This makes it an excellent solution for businesses on a budget who need extra image-generated features on top of the templates provided.
Key Features:
Easy-to-use UI
Different dimensions and styles available
Free to use
High-quality graphics ready to download or insert into your design
Highly customizable through prompts
My Take:
Overall, Wepik's AI image generator is a powerful design tool that is perfect for current Wepik users who already love their templates and would like to do some image generation on a budget.
The intuitive interface and reliable AI model make image creation simple even for non-designers. 
I recommend the Wepik AI image generator as a simple yet effective and budget-friendly option for businesses and non-professionals.
Best for Ease of Use
Overview:
The Shutterstock AI Image Generator is an AI text-to-image generator that is known for its ease of use! This generation platform is created by a well-known brand among businesses—Shutterstock. 
Shutterstock is also the first AI image generator that compensates art contributors for their roles in the generative AI process. This is a huge factor since AI technology has been hurting the livelihoods of many artists, but this image-generation platform is set apart from the rest.
Why I Like It:
What I really love about this software is its speed and ease of use. All I had to do was sign up for an account through my Google account and key in my prompt.
Have a look at the screenshot below, where I only waited for 4-5 seconds for my image to be generated.
In this case, I used the prompt: "ai robots in an office building". 
Here are the results:
I'd say that these look pretty amazing! If you're a content marketer who is in need of some unique, ethically-sourced images, this looks to be a good option!
You can even go one step further and choose between art styles.
Here are the results I got when I chose the 3D option and regenerated my images.
Overall, I'm really impressed with the images I got from my prompts! You can access and try these out yourself for free too. 
However, do note that the free images generated come with a watermark. To remove the watermark, you need to sign up for a paid subscription or the All-In-One Subscription Free Trial, which allows you to get up to 10 AI-Generated Images for free.
Key Features:
Responsible AI image generator (artists are paid for their contributions)
Ease of use
Several art styles available
Impressive and realistic images
Free to use (with watermark)
Value-for-money (all-in-one subscription plan)
No waitlist needed
My Take:
The Shutterstock image generator is an excellent choice for ease of use and if you're looking to support artists for their contributions. The unique art styles and realistic image outputs are also a huge plus.
I would recommend this platform for businesses who want reliable and responsibly sourced AI images. This might not be as suitable for individuals to create fun memes. 
Overall, Shutterstock is still very value-for-money for their all-in-one subscription plans, which include images, video, music, and editorial content as well.
Overall Best AI Art Generator
Overview:
Jasper Art is an online AI art generator that allows you to create images with the help of artificial intelligence using only just text!
Originally just a writing assistant tool popular among bloggers and writers, Jasper has recently launched their art generator beta as well—and I was amazed at how cool it was!
With Jasper Art, you can create unique art images using artificial intelligence by simply describing what you want in natural language.
For example, you could describe a scene with "a sunset over a lake" or "a cityscape at night."
You can either create realistic images or generate cartoon artistic styles that look like they're straight out of a comic book!
Moreover, Jasper Art is unique because it allows you to provide more specific custom image settings.
Here are the settings you can choose from:
You can choose from different settings:
Style
Medium
Artist Style
Mood
Keywords
These will be able to help you achieve the type of image you want better.
My Personal Experience:
I had a go with Jasper to create some realistic images. I used this description "photo of wolf in a red forest" and the following settings:
And the results did not disappoint!
Here are the generated images:
As you can see, most of them got all the features right of having a wolf and a red forest—except the bottom-left image which shows a red wolf instead.
I really like how the bottom-right image turned out though. I'd say that it looks really photorealistic!
Here's a close-up of the image:
Pretty cool for something I created within 2 seconds right?
You can even have these images downloaded in jpg or png format, according to your needs!
Why I Like It:
I love Jasper Art because it's so easy and user-friendly! You don't need any special skills or knowledge to create stunning art—just some creativity.
However, you'll have to come up with a good text prompt to get a nice image out of Jasper Art.
Key Features:
User-friendly AI art generator
Many customizable options for style, artist, medium, mood, and keywords
Unlimited art generation with a monthly plan
Generate unique, high-quality images (great for content use!)
Well-known brand in the AI generator scene
My Take:
Overall, Jasper Art is my favorite AI art generator. It's user-friendly—you can get some great results using just some text prompts, and the images are unique, which is perfect for blogging or content.
The added features of providing custom settings and instructions to Jasper are what make this AI art-generating tool stand out from the rest.
However, it can be a bit pricey if you plan on just generating images for fun. There's no free trial available so you can really have a go and test it out.
If you're thinking of using Jasper Art for blogging, you might want to consider their AI content writing services as well. And to complement that, you're also going to want an AI detection tool like Originality.AI to ensure your content stays original.
Most Popular AI Art Generator
Overview:
NightCafe is an AI art generator that uses deep learning algorithms to generate images from scratch. Originally started as a side project on Reddit, NightCafe has grown to be one of the leading AI art generators around!
Also, NightCafe is also a great AI image generator for creating NFT art too!
They offer a selection of different algorithms to produce varied results:
Stable – Stable Diffusion Image Generator
Artistic – Text-To-Image Art (VQGAN+CLIP)
Coherent – CLIP-Guided Diffusion
Style Transfer
These algorithms are made on different machine-learning models and will yield slightly different results.
Their Stable Diffusion Image Generator is one of the most advanced art generators out there and can produce some really stunning AI-generated art! I'd recommend trying it out for yourself using their free trial.
If you're also thinking of transferring a specific style onto your art piece, you can try out the style transfer as well. This will produce some really realistic images.
My Personal Experience:
Using the free 5 credits I got from NightCafe, I went to generate images using the same description: I also selected the "photo" art style from the
Here's the output image I got:
I have to say that this image looks great! I'm no artist or designer myself and I definitely could not have created this myself. I can imagine this being very useful for blog images or even novel covers.
I tried selecting a different option of "Pop Art" using their Evolve function and here is the result: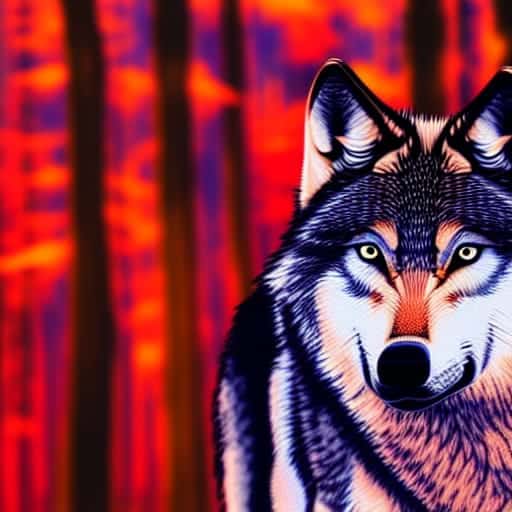 Not bad either! The Evolve function was pretty useful in helping me retain the same look and features of a close-up shot. They only modified it to look more like an art piece—just what I wanted.
I re-generated another image in NightCafe using the "Cyberpunk" setting and this is what I got:
Now our wolf looks very much different from my previous ones! The red forest disappeared but at least the cyberpunk art style came through. I'm still pretty impressed with the flexibility in art styles in NightCafe.
Don't forget—each of these generations only took about 2-3 seconds to create. An amazing feat indeed!
That's not all, I was even offered to buy a print version of this art directly from NightCafe!
Why I Like It:
I like NightCafe because it offers a great variety of results. You can choose from over 20 different painting styles to guide your art creation, just as oil painting, comic, cartoon characters, and more.
Here are the main ones you can choose from: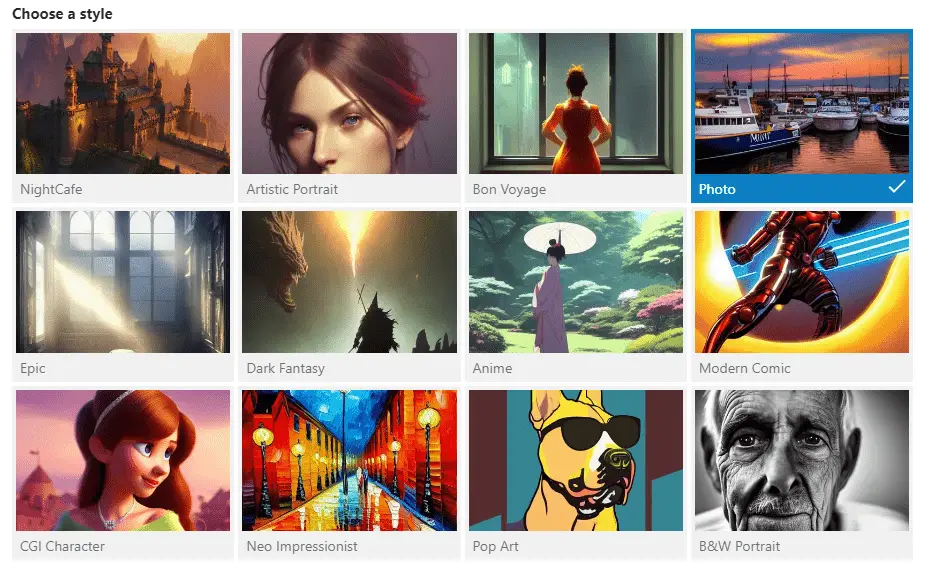 The algorithms offer more options for precision or control, so you can definitely find one that you like best.
Originating from Reddit, NightCafe also has a very active community—so if you're stuck, or if you want to learn more about AI art, this is a great place to start!
Key Features:
Large selection of art styles to choose from (flexible design)
4 main algorithms for different results
Has an Evolve function to retain features and tweak style only
Has the option to buy a print version
Free trial available
Uses credit-based system to create art
Active community and forums on Reddit
My Take:
Overall, NightCafe is a great AI image generator with a ton of options. I really like that they offer a free trial so you can test out the different algorithms and see which one you like best.
The credit-based system is also great because it means you only pay for the art you make—you're not tied down to a monthly subscription.
However, the prices can add up if you plan on making a lot of art!
It's great that they also offer monthly subscriptions that can potentially save you costs if you plan to create AI art on a large scale.
Best Budget AI Art Generator
Overview:
Photosonic is another online AI art generator app that uses a credit-based system for pricing. It also allows you to create realistic images with only text prompts. Like Jasper Art, Photosonic is also known for its AI writing assistant, Writesonic.
The new product, the Photosonic AI Art Generator, allows you to convert existing images into AI art images that are unique!
Why I Like It:
I like Photosonic because it has a free trial with 15 credits, which is more generous than NightCafe's free trial.
It also offers a great variety of results, with different options to control the level of abstraction in your image.
You can also choose to have the background as white noise or not—I think this is a great feature as it allows you to create some really unique art styles.
Additionally, the Unlimited Plan allows you to create as many AI-generated images as you want at a fixed cost per month.
If you're looking to generate NFTs to start your own collection, Photosonic can be a good option.
Key Features:
Free trial available with 15 credits
Uses credit-based system to create art
Text-to-image capabilities
Has an affordable unlimited credits plan
Convert existing images to AI art
Auto face restoration
Access to AI art community
My Take:
Overall, I think Photosonic is a great AI art generator with some really unique features. I like that you can convert existing images into new unique images.
Also, there's an affordable unlimited monthly plan for those who want to generate a lot of art.
Also, the text-to-image capabilities are pretty impressive—I think this is a great tool for those who want to create AI-generated memes.
However, the credit system can get a bit confusing and the prices can add up if you want to generate a lot of art.
If you're going to try out Photosonic, I recommend getting the Free Trial plan to start with!
Best for Quality
Overview:
Midjourney is a relatively new self-funded research project that converts text into beautiful AI art. Being still in its beta testing phase, this AI art generator is one of the least accessible to the public.
Despite being just in beta, it has already been picked up by many online sources for its incredible AI images—and quickly becoming one of the most popular AI art generators around!
Why I Like It:
The image outputs produced by Midjourney have one of the most realistic images among all on this list. I like that even newbies can create digital art from AI tools in simple ways, like through a Discord bot!
Key Features:
Converts text into AI-generated images
Uses GPT-3 as its core algorithm
Simple Discord bot for art creation
Image upscaling available
Ability to create variations in the image output
My Take:
Midjourney is a great AI art generating software for those who are looking for quality images. The Discord bot makes it convenient to use and the results are amazing!
However, it is a bit pricey—especially if you want to create high-resolution images or create variations of your image on a large scale. If you can afford it, I say go for it!
I think it's important to note that while the quality of Midjourney's images is amazing, they're not always perfect. So do keep that in mind!
Best AI Art Generator for Realistic Image Styles (FREE)
Overview:
DALL-E is an AI image generator that turns text into stunning images and is best known for its ability to create memes.
It was created by OpenAI, an artificial intelligence research lab, and is currently in beta testing—with only limited access to a waitlist.
My Personal Experience:
I took DALL-E for a spin and entered the following text description: "kangaroo driving a formula one car underwater".
Here are the results:
What do you think of the images DALL-E created for me using AI?
I'd say they did a pretty good job of including the 3 main elements I requested for. However, the Union Jack flag included in the images seems to be a little off to me. The images above all seem to be leaning more toward the cartoonish look.
How about something that's more realistic? Let's try "photo of wolf standing in a red jungle"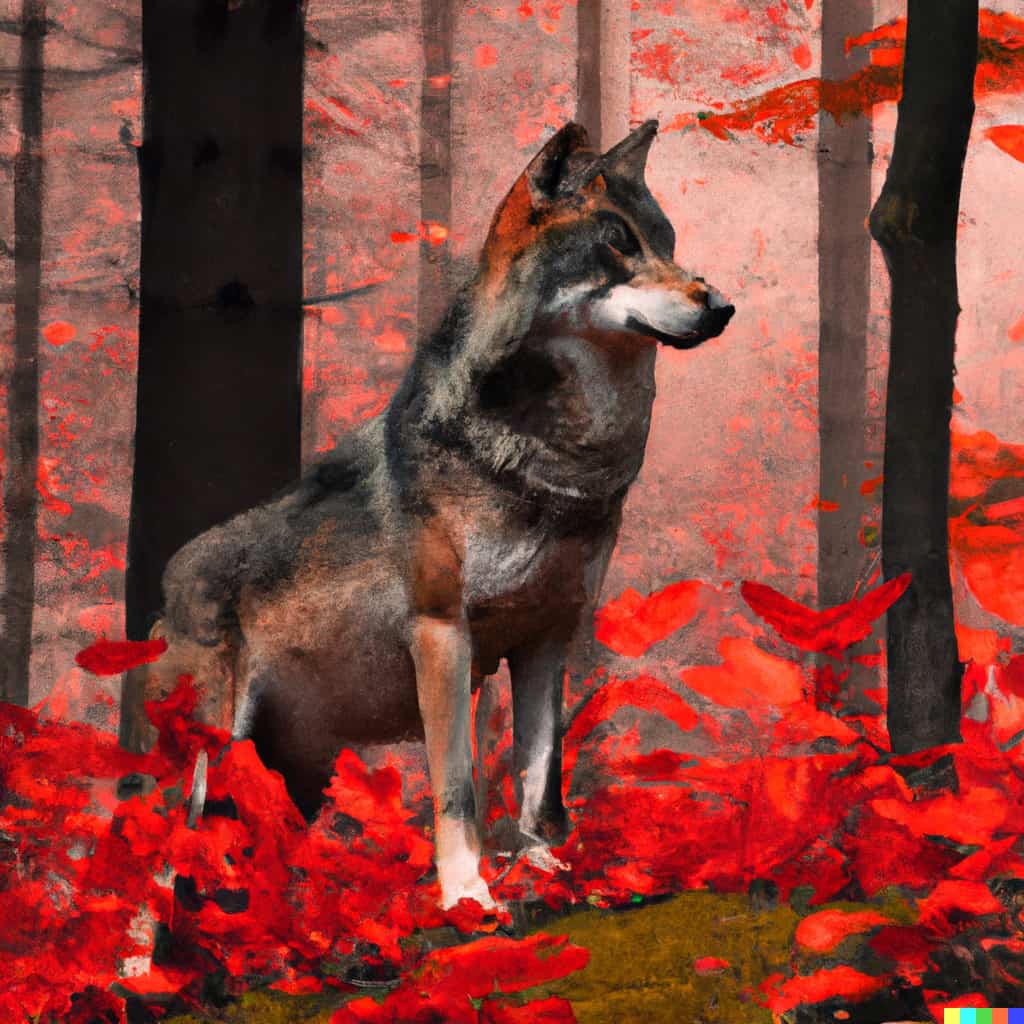 Still not the hyper-realistic look I was looking for but the abstract look is definitely pretty amazing! If you're looking to create abstract art, then you'll be quite pleased with this output.
Here's another generation I got from the same description:
Looking much better! These images look so much more realistic and actually look like photos. I really like the foreground blur effect to show some photo depth.
Since I really liked this image, I tested out their "Generate variations" feature to help me produce more similar images.
And here are the results!
As you can see the 4 other images generated have created slight variations in the red forest and the wolf—that's a pretty cool feature to have!
Why I Like It:
I like DALL-E because it can generate some really incredible images—especially involving unique requests ranging from cartoons to photo-realistic images!
The generate variations feature was pretty amazing since I could ask DALL-E to tweak slight changes to an almost-perfect image to achieve the perfect one.
Also, did I mention that DALL-E has an Image Editing feature? You can make editions to images by erasing parts of an image. You can also add a generation frame to extend the image to create a larger AI-generated image.
Here's what the image editing feature looks like:
This is another feature that many other AI generators lack!
Key Features:
Generates a range of great images – cartoonish and realistic photos
Has a Generate Variations feature

Has an Image Editing feature

Free access with 50 credits
My Take:
DALL-E is an amazing AI image generator with some incredible features—including the ability to generate hyper-realistic images! The image editing feature is also a great bonus.
However, because it's still in beta testing, access is limited and you'll need to join a waitlist to be able to use it. If you're patient to wait just a few days, go ahead and sign up.
I'm sure you'll be blown away by how far the AI art generation technology has come and how breathtaking DALL-E's AI-generated images are.
However, as you can see from the images I've generated, they do come with a small watermark at the bottom-right of the images. Although if you're looking to generate AI art just for fun, then this shouldn't be a problem.
Related Questions
What is an AI Art Generator?
An AI art generator is a tool that uses artificial intelligence to produce images. It can be used to generate images from scratch or to edit existing images. They generally require a short text description as input to generate images.
How Does an AI Art Generator Work?
An AI art generator works by using artificial intelligence algorithms to convert text descriptions into art images. Most AI art generation software use OpenAI's open-source GPT-3 software to convert the text into code. These codes are then translated into art images.
What Are The Benefits of Using an AI Art Generator?
There are many benefits of using them, including:
Creative digital art expressions
No need for expensive software or equipment
No need for coding knowledge
Thousands of images can be generated quickly
Unique and original images can be created for enterprise use
AI art therapy
These benefits make AI art generation software a great tool for artists, designers, businesses, and even everyday individuals who use them for therapy!
Who Should Use an AI Art Generator?
Anyone who wants to create or edit 100% unique digital images, without the need for expensive software or drawing expertise, should use an AI art generator. These include designers, artists, content marketers, bloggers, entrepreneurs, business executives, and more.
How Do I Use an AI Art Generator?
To use most AI art generators, you will need to sign up for an account and input a short text description. The generator software will then generate images based on the description. You can edit the images or save them for later use.
How Much Does an AI Art Generator Cost?
The cost of an AI art generator typically ranges from $10 to $30 per month. This can vary depending on the features and quality of the tool.
However, there are many other generators available for free as well through Beta access.
Is there a free AI art Generator?
DALL-E is a free AI art generator with access through a waitlist. Other free AI art generators like Photosonic and NightCafe also have free trials available with limited use.
Where can I create AI-generated art?
You can create AI-generated art from these generators: Jasper Art, NightCafe, DALL-E, Midjourney, Deep Dream Generator, and Photosonic.
Is DALL-E 2 free?
Yes, DALL-E 2 is free to use for creating digital art for 50 art generations per month. Additional uses will require credits at $15 for 115 credits. DALL-E is accessible through a short waitlist for free.
Final Thoughts
There you have it—the 5 best AI art generators of 2023! Whether you're looking for a free or paid option, there's an AI art generator out there that's perfect for you.
I hope this article has been helpful in looking for the right one for you!