This post may contain paid links to my personal recommendations that help to support the site!
Thinking of getting AirPods for yourself and looking for inspiration for some engraving ideas? Look no further!
In this blog post, we will share over 100 of the best AirPods engraving ideas that are funny, cool, cute, and much more!
Whether you are looking for a unique gift for a loved one or want to personalize your AirPods, these ideas will help you get started.
Read on to get some engraving inspiration!
What Are The Best AirPods Engraving Ideas?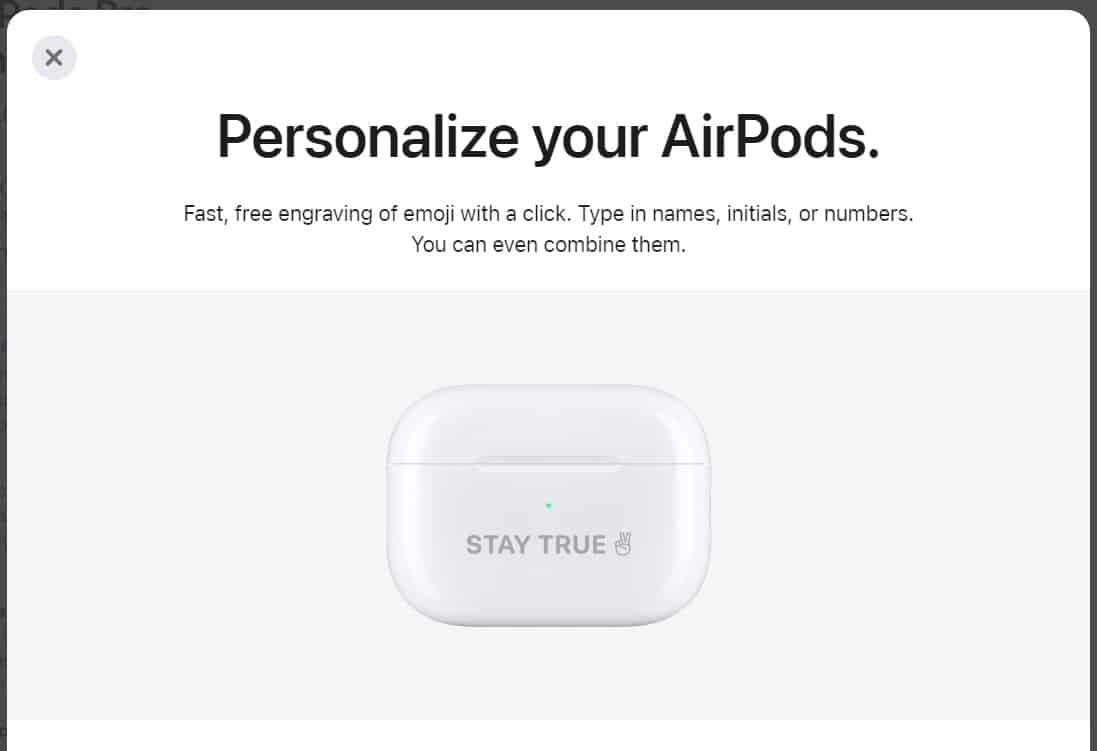 Funny AirPods Engraving Ideas
Here are some of the funniest AirPods engraving ideas I found:
"Don't disturb pls"
"Do not steal"
"Ear we go again"
"Pods-itivity"
"Ear it out"
"lost airpods"
"Dog Chew Toy"
"Cat Chew Toy"
"Not Android"
"No Engraving, please"
"Earplane mode"
"Pods away!"
"Tim Apple"
"FAKE AIRPODS"
"Not airpods"
"Not yours"
"Not Samsung"
"Lost n found"
Funny engraving ideas can be really subjective, and what's funny to you might not be funny to another. That's why it's important to consider some inside jokes that only you or your friends understand.
That would make it much more unique too!
Aesthetic AirPods Engraving Ideas
Here are a few engraving ideas to consider for those who want to go for an aesthetic look:
"Bloom like buds"
"Chill, it's music"
"Clear as sound"
"Hear with love"
"Pastel pods"
"Dreamy tunes"
"Pods of grace"
"Aesthetic ears"
"Melodic vibes"
"Ear candy 4 U"
"Serenade me"
"Lush acoustics"
"Tune into art"
"Smooth soundz"
"Pods of serenity"
"Art of music"
"Soundscape art"
"Ears, let's vibe"
"Earthy beats"
"Pods, like silk"
"Auric symphony"
"Lullaby pods"
"Tunes of peace"
"Pods, in bloom"
"Sonic canvas"
"Musical hues"
"Subtle sounds"
"Pods of calm"
"Harmony in ear"
"Ear-esthetics"
When choosing a text to engrave, you won't need any out-of-this-world AirPods engraving ideas to get creative! You can consider single emojis for a minimalistic look and feel.
Here are some examples:
❤️
💕
👻
🤩
😍
🔥
✌
Cool AirPods Engraving Ideas
Here are some ideas if you'd like a cool quote:
"Power in pods"
"Sonic boomz"
"Bass, please!"
"Pods of fire"
"Sleek soundz"
"Cool, clear sound"
"Pods of steel"
"Pure vibes only"
"Rock my ears"
"Tune squad"
"AirPods 4 life"
"Pods, let's jam"
"Bump it up"
"Legendary pods"
"Ears on fire"
"Vibing"
"Pods, all day"
"Tunes, please"
"Fly tunes here"
"Pods of power"
"Cool, smooth sound"
"Ears, let's party"
"Tune in, turn up"
"Rockin' pods"
"Pods of cool"
"Clear tunes"
"Hear it loud"
"AirPods elite"
"Pods, my squad"
"Bass in ears"
"Pods, 4ever cool"
Cute AirPods Engraving Ideas
Here are some other cute text examples to engrave onto your AirPods.
"Cute beats 4 U"
"Adorable tunes"
"Kawaii pods"
"Hear meow"
"Purrfect sound"
"Ear-iffic vibes"
"Cuddle up ears"
"Cute in ears"
"Pawsome tunes"
"Pods, with love"
"Fur-ever buds"
"Kitten tunes"
"Pods of joy"
"Love in sound"
"love songs only"
"Ear hugs here"
"Pods of cute"
"Sweet beats"
"Puppy tunes"
"ear candy"
"cute AF"
"Chirpy tunes"
"Happy tunes"
"Silly soundz"
AirPods Engraving Ideas For Wife
For an engraving for your wife, you can try out these ideas. You might want to consider adding her favorite emoji.
"Wifey's tunes"
"Her music world"
"Ear candy 4 her"
"Ears of love"
"Wife, hear me out"
"Ear love, always"
"Pods of passion"
"Ears of my life"
"Her symphony life"
"Her rhythm, her beat"
"our own little world"
"Ear harmony, always"
"Wifey's AirPods"
"Our love song 🎶"
"Sharing is caring❤️"
"Mrs.'s earbuds 💍"
"Wife's audio aid"
"#couplegoals"
"Her beats, my heart💘"
"Our music forever🎼"
"True love never fades "
"One heart, one beat👫"
"Ears for my queen👸"
"Love at first sound💓"
"Forever together ❤️❤️"
"All I need is you💕"
"Music to our ears🎶👂"
"Partner in pod-crime 😜"
"Best wife ever!"
"my soulmate "
"Always by her side ❤️ "
"love on air"
Here's a really funny one for your wife that I really like!
AirPods Engraving Ideas For Husband
Here are some ideas when gifting AirPods to your husband.
"Hubby's tunes"
"Hubby, hear me out"
"Mister"
"Mr Airpods"
"Hubby's AirPods"
"manbuds"
"#couplegoals"
AirPod Engraving Ideas For Girlfriend
Here are some clever ideas if you're planning to gift AirPods for your girlfriend.
"I❤︎[Girlfriend's Name]"
"I❤︎[Your Name]"
Our music journey"
"Love in stereo"
"Ears of my life"
"I hear you"
"babe hear me out"
"#1 girlfriend"
"soul-mate"
AirPods Pro Engraving Ideas
"Boss Vibes"
"Power Moves"
"Stay Focused"
"Inhale Exhale"
"Music Is Life"
"Zen Mode On"
"Rise Above"
"Game On"
"Stay Golden"
"Find Your Zen"
"Stay Positive"
"Make It Happen"
"Dream Big"
"Be Brave"
"Believe In You"
"Stay Strong"
"Keep Going"
"Be Unique"
"Born To Win"
"Stay Chill"
"Keep Calm"
"Be Fearless"
"Let's Dance"
"Make Magic"
"Rise & Shine"
"Keep Grinding"
"Be Kind"
"Love Yourself"
"Shine On"
"Follow Your Heart"
Best Engraving Ideas for AirPods Max
"Focus On 👊"
"Stay True✌"
"Create Magic ✨"
"Embrace Change"
"Find Balance ⚖️"
"Rise Above 👊"
"Keep Growing 🤟"
"Be Fearless 👊"
"Stay Focused 👊"
"Learn More"
"Love Life ❤️"
"Mind Over Matter 👊"
"Make It Happen "
"Stay Curious"
"Live Freely"
"Stay Inspired"
"Seize The Day"
"Keep Exploring"
"Never Give Up"
"Be Grateful"
"Stay Humble"
"Find Joy"
"Keep Learning"
"Find Your Voice"
"Stay Passionate"
"Stay Hungry"
"Stay Wild 👻"
"Stay Unstoppable"
Related Questions
What should I engrave on my AirPods?
You should engrave on your new AirPods something meaningful to you, such as quotes, words, phrases, emojis, and symbols.
There are so many creative ideas to engrave your AirPods to make them unique and personalized!
Some popular engraving ideas include quotes about music or life, funny puns and phrases, nicknames for yourself or a loved one, symbols of strength or luck, and meaningful words.
You can get your free engravings with any AirPods purchases from Apple's Official Website. You can also engrave AirPods with Memoji via the Apple Store app.
Additionally, you can also have engravings on other Apple products for iPad engravings, AirTag engravings, and Apple Pencil engravings.
What are the character limits for engraved AirPods?
The character limit for AirPods Pro is 20 characters.
Are AirPods engraving permanent?
Yes, the engraving on an AirPod is permanent and cannot be removed or changed once it has been completed. The only way to change the engraving is to purchase a new set of AirPods with a different engraving.
Alternatively, you can purchase an AirPods case to cover the engraving message.
Is Apple engraving worth it?
Yes, getting your AirPods engraved from Apple is worth it. The engraving quality is top-notch, and it is a great way to make your AirPods unique and personalized.
Apple's engraving service is also very fast and convenient too.
Moreover, if you're gifting AirPods to someone, it might be a great idea to get a custom message engraved.
Is it worth engraving AirPods?
It is worth engraving on Apple AirPods. Engraving is a great way to make your AirPods unique and personalized.
This makes it harder for someone to mistakenly take your AirPods if you happen to leave them somewhere.
Additionally, getting your AirPods engraved can be a reminder of an important personalized message or memories that are meaningful to you.
However, getting your AirPods Pro engraved may not be as worthwhile if you plan to resell them in the future. The permanent engraving could reduce the value of your AirPods and decrease their resale price.
Can you engrave AirPods after purchase?
Yes, you can engrave your AirPods after purchase. You can do this by visiting your local Apple Store or heading over to the company's official website and ordering the service.
Can you return AirPods if they are engraved?
You can return engraved AirPods, but not in your local Apple store. This is subject to Apple's return policy.
Final Thoughts
These are among the best AirPod engraving ideas I have! I hope this article will help you find an inspiring and meaningful message to engrave on your AirPods.
Thanks for reading!